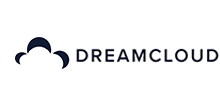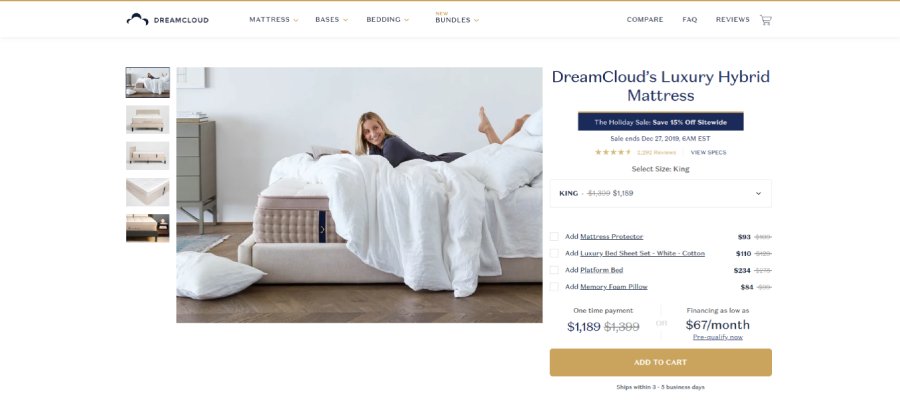 The DreamCloud mattress is a hybrid mattress featuring memory foam, dual innerspring coils, and a high-quality, quilted Euro pillow top. Although this mattress is newer and on the lower end of the luxury price range, its features and economical price point are quickly causing it to become a favorite among those buying mattresses online today.
Like a number of companies selling bed-in-a-box products, free shipping is provided with each DreamCloud mattress. These beds originally arrived in a protective bag, compressed for easy transport. Today, they are shipped in boxes but still deliver the same quality sleep.
The Mattresses
DreamCloud currently only offers one mattress model, unlike some online brands that have options to cater to all sleep styles. Of course, this mattress does claim to offer a comfortable night's sleep for most people, regardless of their preferred position or size. Its hearty design, however, may prove to be less appealing to those who are smaller or want something less substantial.
Still, the mattress construction is sound and topped off with a pillowtop for extra plushness, making it a great choice for anyone who wants to enjoy the most luxurious sleep possible. The mattress is made from high-quality materials and the pillowtop is designed to stand the test of time, with solid edges that won't fold as soon as you roll too close to the edge.
Back to top

↑
Pros and Cons
This mattress is super thick and heavy, which means that it is durable and well-made. However, it also means that it will probably take two people to unroll and set up. The process is fairly simple, but the sheer size and bulk of the mattress can make it difficult for a single person.
DreamCloud does offer in-home setup, white glove delivery, and removal of your old mattress for a nominal fee. Of course, this service is only available in limited areas, so shoppers will need to check the website to see if they live in a covered delivery area.
Perhaps one of the biggest perks of this mattress is that it comes with a full one-year trial. That's right—you can try out this mattress for a full 365 nights before you decide whether or not you're completely satisfied. The company is so confident in its abilities that it will even pick up the mattress free of charge and give you a full refund.
Because this mattress is so thick and plush, it is probably too much for petite people to appreciate. It's not that they won't get a good night's sleep, but that they won't appreciate the features of the bed like someone heavier would simply because the mattress is designed to be ultra-sturdy and hold up to plenty of weight.
This mattress is on the lower end of the luxury price range, but not for lack of features and quality. There is also an adjustable base option for people who want the ultimate in customized sleep comfort. For couples, the bed has good edge support and does well with isolating motion.
Back to top

↑
The Bottom Line
For those who want a luxury mattress experience without the high-end price, DreamCloud definitely lives up to its name. While the mattress is designed for those who need more comfort and support, it can provide a great night's sleep. The fact that it also comes with a great warranty and a 365-night in-home trial is just icing on the cake. Shoppers can choose from individual mattresses or purchase a set to enjoy a whole new bed.
Back to top

↑
*The above shall not be considered as an expert or professional advice for any matter.
We receive advertising fees from the service providers we rank below. Advertising Disclosure
learn more