Birch

Review (2023)
Special offer:
20% Off Sitewide +
2 Free Pillows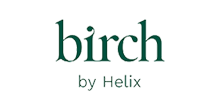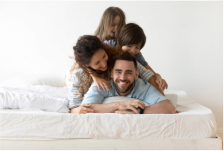 20% Off Sitewide +
2 Free Pillows
SHOP NOW
Made of Talalay latex that is 7 times more breathable

As eco-friendly as it is cozy

Extra-comforting feel to your body

The cover is made of organic cotton and gives you a breathable surface
Don't Have Time? Here's a Short Summary (1-Minute Read):
What is the Birch mattress?
It is a hybrid mattress that's designed with coils to allow sufficient airflow. It is made of wool and aerated latex to make it cooler and more breathable.
What perks come with the purchase of Birch?
You can try this mattress for 100 nights after purchase, and it is backed by a 25-year warranty.
What are the advantages of the Birch mattress?
This product is made of Talalay latex that is 7 times more breathable than the standard types, and its Birch wool material has excellent thermoregulatory properties.
What payment options does Birch offer?
Major credit cards are accepted along with PayPal, Apple Pay, Amazon Pay, Google Pay and Shopify as well as financing through Klarna and Katapult.
Does Birch have good customer service?
Yes, customer support is available via live chat on 10am to 10pm ET Mondays to Fridays, call on 12pm to 6pm ET Mondays to Fridays and through email.
Do you want to sleep better at night – and in comfort? Of course you do. And, to do this, you need a mattress suited to you. However, there are many places to buy mattresses online, so how do you choose the right one for you?
You only have to type in mattresses on Google, and you will get a flood of results. But, not every mattress provider is legit – or provides a comfortable mattress. In which case we need to avoid these websites.
At the end of the day, the average person spends a third of their life in bed. Therefore, we deserve to sleep in comfort, don't you think?
This falls down to having the right mattress – but how do you choose the best one for you?
Well, in this review, we're going to look at Birch mattresses. To see if their products are hot – or not – in the world of mattresses!
*The above shall not be considered as an expert or professional advice for any matter.