Helix Mattress

Review (2023)
Special offer:
20% Off Sitewide +
2 Free Pillows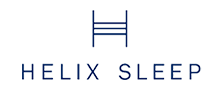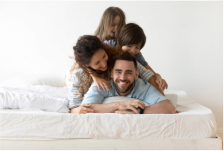 20% Off Sitewide +
2 Free Pillows
SHOP NOW
Wide variety of mattresses for all different kinds of sleepers

They make other products that compliment their mattresses

Every mattress is made with varying degrees of memory foam

They have a Luxe option
Don't Have Time? Here's a Short Summary (1-Minute Read):
What is the Helix Sleep hybrid mattress?

This mattress varies in thickness, depending on the model. Because of its superior quality, it is doctor-recommended as a go-to solution for healthy and improved sleep.

What perks come with the purchase of Helix Sleep?

You can try this mattress for 100 nights following your purchase, and it is backed by a 10 to 15 years warranty.

What are the advantages of the Helix Sleep mattress?

Depending on the model, this mattress can be bought in varying firmness. They are integrated with different degrees of memory foam, wrapped coil, and a dynamic latex hybrid foam to ensure that you get good quality sleep.

What payment options does Helix Sleep offer?

All major credit cards are accepted, along with PayPal, Apple Pay, Google Pay, Amazon Pay and Shopify. Financing programs are also considered via Katapult and Klarna.

Does Helix Sleep have good customer service?

Yes, you can chat with their customer support team from 10am to 10pm ET. Phone support is limited from 12pm to 6pm ET. You may also send text messages or email them through a webform.
Unique Features
Sometimes we don't really know what we want in a mattress and Helix must understand that because they offer a sleep quiz to help you find a mattress that could suit you best to maximize your sleeping potential.
They have mattresses for side sleepers in three different firmness levels and mattresses for back and stomach sleepers in three different firmness levels. If you want to have a more luxurious mattress, they offer all their normal mattresses in a luxe option.
Helix also created a mattress for taller and larger people called Helix Plus. This mattress makes it possible for heavier people to enjoy the benefits of a foam mattress without the limits placed on them because of their weight.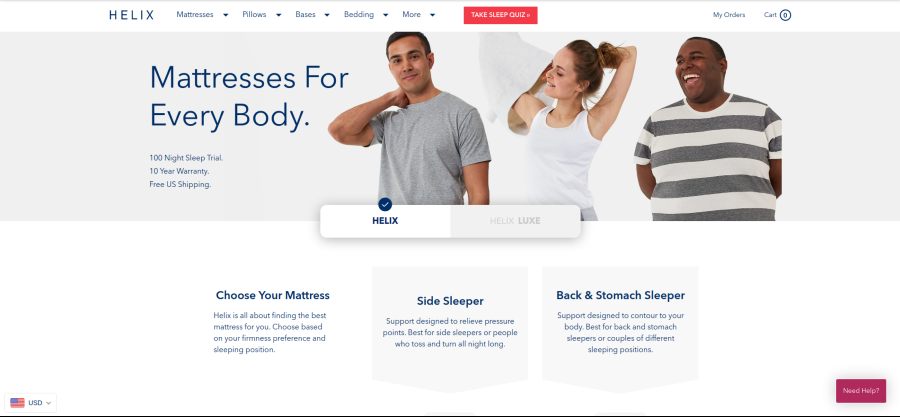 #1 - Overview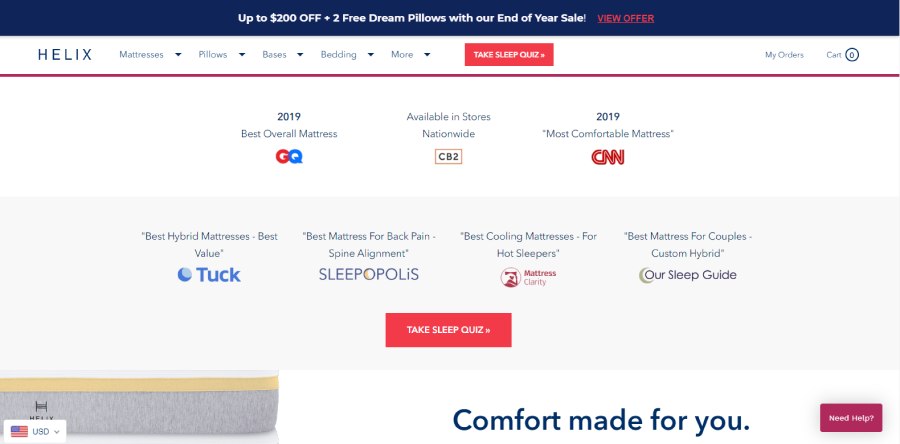 As you can see above, Helix has won a lot of awards for their mattresses. They offer a wide variety of mattresses for all different kinds of sleepers. They also make other products that really compliment their mattresses and help their customers to get their best sleep yet.
Some examples include pillows, frames and bases, covers and cooling pads, and sheets to name a few.
Whatever your sleep needs and preferences, Helix has a mattress to match. If you need a little help figuring out which mattress that is, they can help with that too.
Helix was created by a group of three friends who all had horrible mattress shopping experiences and the lack of sleep afterwards. They decided to create a better mattress shopping experience with great sleep afterwards, instead.
Back to the top

↑
#2 - Mattress Details
Helix offers 7 different versions of their mattress, all with varying firmness and support. Six of these mattresses can be bought as a Luxe mattress. Every mattress is made with varying degrees of memory foam, wrapped coils, and dynamic latex foam hybrid to deliver a well-designed bed for you.
The Sunset – This mattress is for those who like a softer feel. It has little pressure relief and is a good option for a side sleeper.
The Midnight – This mattress is their most sold mattress. It is also made for side sleepers but has a medium support feel and light pressure relief.
The Twilight – This mattress is similar to the Sunset and Midnight but has a firmer feel.
The Moonlight – This bed is made for back or stomach sleepers. It has a soft feel with extra body contouring.
The Dusk – Again for back and stomach sleepers with body contouring, this mattress has a medium firmness.
The Dawn – This mattress is the same as the Dusk only with a firmer feel.
All the above six mattresses have a Luxe option. This Luxe mattress delivers the same sleep needs only with an extra layer of comfort added in a variety of ways. First the pillowtop layer is more luxurious with a breathable fabric to help keep you cool. The coils are more zoned for better lumbar support and the mattress itself is two inches thicker.
The Helix Plus is a mattress designed for the heavier people who want the benefits of a hybrid mattress with maximum support for their body weight and a medium feel and contouring.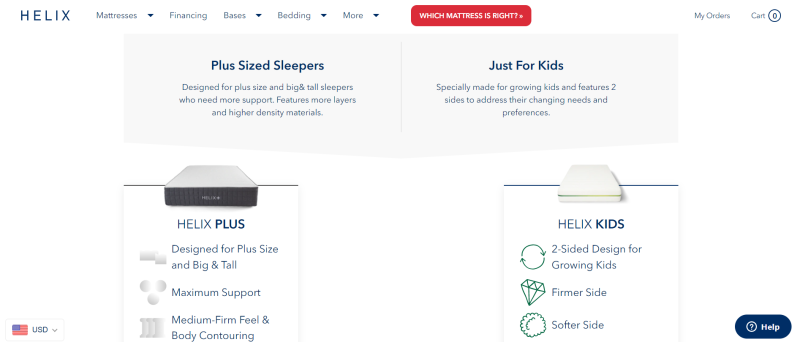 Back to the top

↑
Mattresses Pros
Most Awarded Heavy People Mattress brand of 2022

No-contact delivery / free shipping

Soft, medium-firm, firm and luxe options

Handmade in the USA

100 Night Sleep Trial

10 Year Warranty

Free US Shipping
Mattresses Cons
It is not suitable for people looking for a foam mattress because all of the company's products are hybrids.

Firmness options are limited, and sleepers who prefer a soft mattress won't like it.
*The above shall not be considered as an expert or professional advice for any matter.