Brooklyn Bedding Review (2023)
Special offer:
30% Off Sitewide -
Use Code: LABORDAY30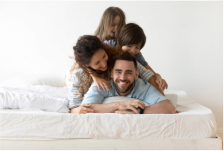 30% Off Sitewide -
Use Code: LABORDAY30
SHOP NOW
Affordable Luxury Hybrid for Ideal Sleep Temprature

Free shipping & returns

120-night risk free trial | 10-year warranty

Proudly made in Arizona, USA
Don't Have Time? Here's a Short Summary (1-Minute Read):
What is the Brooklyn Bedding mattress?
Hybrid mattresses by Brooklyn Bedding vary in thickness, firmness, materials and sizes. These products are known for the infusion of the company's proprietary and revolutionary TitanFlex technology.
What perks come with the purchase of Brooklyn Bedding?
A risk-free 120-night trial goes with the purchase of this product, along with free shipping and a 10-year warranty.
What are the advantages of the Brooklyn Bedding mattress?
This mattress is best for lightweight to average-sized sleepers, and you can choose from 3 firmness options. Designed with TitanFlex foam, you'll enjoy a cooler sleep on a bed that feels like latex.
What payment options does Brooklyn Bedding offer?
Financing with Affirm can be utilized to pay for a Brooklyn Bedding mattress, along with other options such as PayPal, Google Pay, Shop Pay, Debit and Prepaid cards and Amazon Pay.
Does Brooklyn Bedding have good customer service?
Yes, customer support can be contacted by phone, live chat or email from 7am to 7pm on Mondays to Fridays, and 7am to 5pm on weekends.
Brooklyn Bedding is a premier online mattress brand. It is known for selling high quality but affordable mattresses. As a leading company in the industry, it is an expert, creating products that suit the needs of its consumers.
This article will tell you about the 6 prominent mattress products of Brooklyn Bedding as well as pertinent info about it as a company.
#1 - What Are Brooklyn Bedding Mattresses?
You need to be particular about the mattress that you buy. Basically, you have to choose the right product in relation to your needs.
Mattresses vary according to the sleep positions, sleeper types and the disorders that they address.
Brooklyn Bedding that is a renowned mattress company is aware of this, and it has created bed in a box mattresses that will cater to the specific needs of their customers.
Several factors have to be taken into consideration when purchasing a mattress, such as its construction, firmness level and price point, among others. Below is an elucidation of the main mattresses produced by Brooklyn Bedding in terms of their materials, their ideal users and a few mattress shopping tips.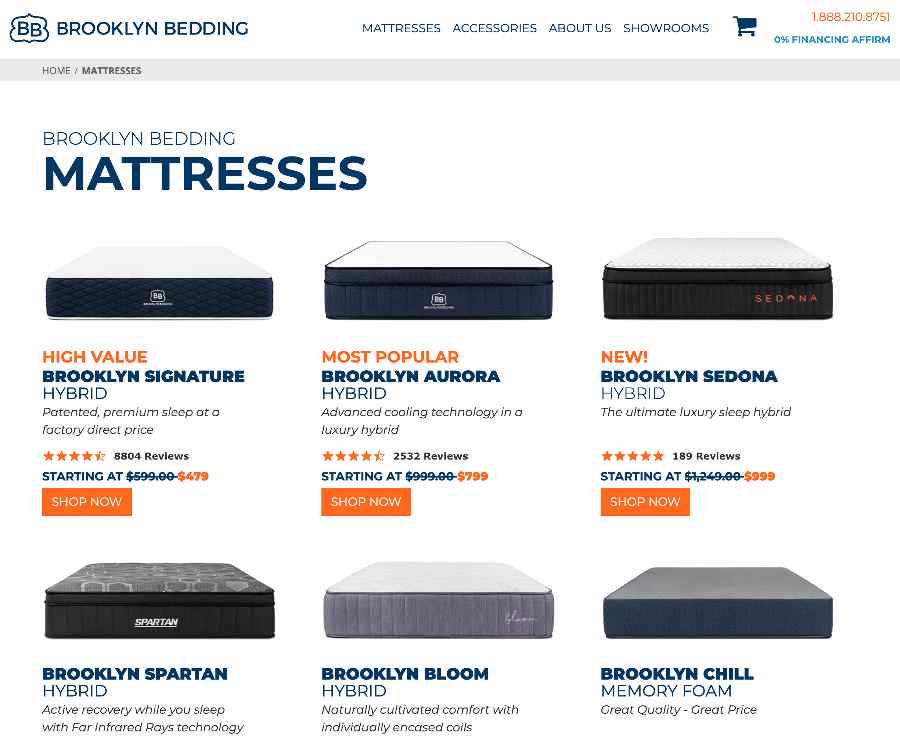 Back to the top

↑
#2 - 6 Main Brooklyn Bedding Mattress Models
The highlights of the 6 individual mattresses of this brand are tackled in this section.
This Signature is the first mattress model of Brooklyn Bedding. This hybrid bed incorporates a balance between comfort and a well-supported sleeping. The firmness of this product can be customized, able to respond to various sleep positions and different body types.
This 10 inches thick mattress is comprised of four layers and it is best for value seeking shoppers that are also stomach sleepers.
This product is one of the best in the market as a cooling mattress. It is able to regulate temperature while you are sleeping because of its Copper Gel Energex component on the top layer. Cooling beads are infused into it.
It is in fact said that the Brooklyn Bedding company founder John Merwin himself sleeps on an Aurora mattress. He claims that it was the best mattress that he and his company has ever created.
This bed is a hybrid mattress constructed with 5 layers and 13 inches thick. Hot sleepers will find this product beneficial.
Seniors and active sleepers will find it advantageous to doze on a Brooklyn Spartan bed. It is because its pressure relief capabilities are superior. Being a luxury hybrid product of its sort, it has been designed to keep you cool.
Made of the patented TitanFlex foam, it is able to support your pressure points and consequently rejuvenating your body as you sleep through the night. It fosters the alignment of your spine as you lie down. There are 5 layers that consist this mattress, and it is 13.5 inches in thickness.
Pressure is relieved and your body experiences cooling when you have your forty winks on a Brooklyn Bloom Hybrid. The features of this product are quite heavy and these include premium and natural talalay latex.
The comfort layer of this bed has an organic wool and cotton material, making it eco-friendly. You are guaranteed of top A quality because it is Oeko- Tex class 1 certified.
This 3- layer hybrid mattress is 12 inches thick and it matches side sleepers.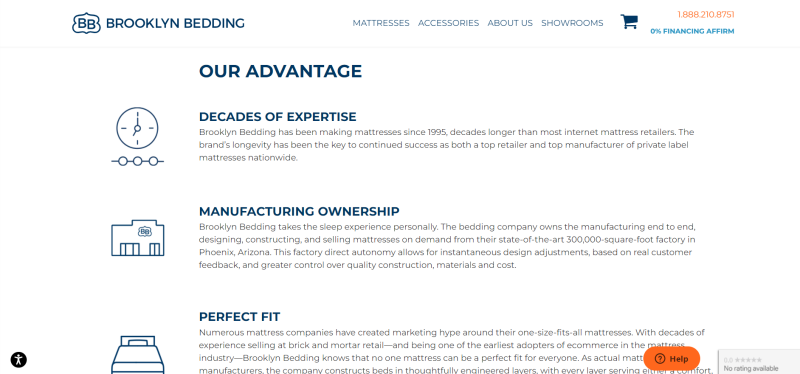 What's unique about this bed is that it incorporates an innerspring layer into its gel memory foam aspect. Couples that need to buy a mattress on a budget will find good use of the Brooklyn Bowery Hybrid. Its motion isolation feature is remarkable while sporting a reasonable price. Aside from this, it regulates the temperature when you're sleeping, providing ultimate comfort.
This 12 inches thick bed is constructed with 3 layers, and as earlier said, it is best for couples.
This is one of the pricier models of the Brookly mattresses line, but the bucks that you spend is worth it, especially if you prefer to sleep on an all-around bed. Whatever sleeping positions or type of sleepers can be accommodated by this product, along with couples and hot sleepers.
As a hybrid bed, the Sedona model consists of 6 layers and is 14 inches thick.
Back to the top

↑
#3 - Brooklyn Bedding Company Information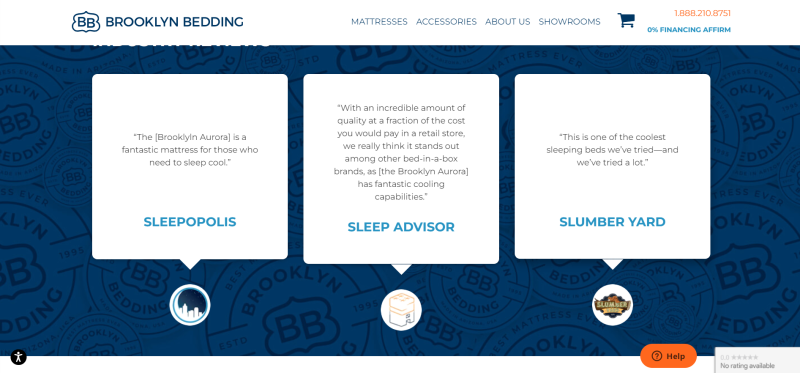 Brooklyn Bedding is a company that makes premium mattresses and at the same time creates a difference. Not only pertaining to providing quality sleep and well-being to their customers, but especially to children. Why?
It's because it helps children in need by giving them beddings and sleep accessories. The company also collaborates with organizations that endeavor to keep children in their homes instead of removing them because their parents cannot provide for their needs.
Brookly Bedding likewise donates beddings to foster families along with housing shelters and centers.
So when you purchase a product from Brooklyn Bedding, you can be assured that it goes to a worthy cause.
Back to the top

↑
*The above shall not be considered as an expert or professional advice for any matter.
Mattresses Pros
Affordable Luxury Hybrid for Ideal Sleep Temprature

120-night risk trial

10-year warranty

Free shipping & returns

Proudly made in Arizona, USA
Mattresses Cons
Sinkage may be a problem because this mattress is soft.

It is not very efficient in providing edge support.