ZenHaven
Gone are the days of a standard mattress. Enter latex mattresses by Zenhaven. Beautifully crafted mattresses that aim to give you the deep night's sleep you deserve. If you didn't know already, latex mattresses are becoming more popular. Not only do they help you sleep better, but they're also perfect for keeping you cool on those hot sticky nights. Losing sleep at night causes stress in our day-to-day lives. So, it's important to get enough rest. The mattresses from Zenhaven certainly help with that. In this review, we're going to share everything you need to know before buying a mattress from Zenheaven. And, then you can see how much better one of their products helps you to get more shut-eye.

Don't Have Time? Here's a Short Summary (1-Minute Read):
What is the ZenHaven mattress?
Ten inches in thickness, the ZenHaven is a dual-sided mattress, meaning it is flippable. On one side is the luxury plush side while the opposite side has a gentle firmness. It is a natural latex bed that is made of 100% organic materials.
What perks come with the purchase of ZenHaven?
There's a 365-night home trial that comes along with your purchase of it, and it is backed by a lifetime warranty.
What are the advantages of the ZenHaven mattress?
ZenHaven is thermoregulatory, and it isolates motion when couples sleep on it. Being made of latex, it relieves pressure points even when you sleep in different positions.
What payment options does ZenHaven offer?
You can purchase the mattress via a financing scheme with Affirm, or through credit or debit.
Does ZenHaven have good customer service?
Yes, customer questions are entertained via live chat, phone and email.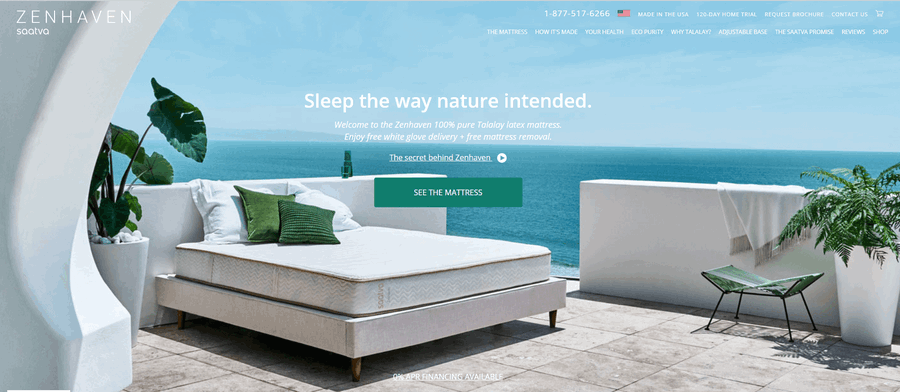 Mattresses Pros
Organic New Zealand Wool - Helps Regulate Body Temperature

Natural latex core for optimal support and durability

Dual-sided for two firmness options in one mattress

365-night home trial & lifetime warranty
Mattresses Cons
It is not suitable for people who are allergic to latex.

You aren't likely to enjoy its flippability because it is too heavy to switch over.
*The above shall not be considered as an expert or professional advice for any matter.