Ergoflex Mattress 
While there are many in-the-box, online-sold mattresses in the market offering ten years warranty, Ergoflex is the one that started it all. In fact, it is the only mattress brand in the market for more years than its warranty period, having entered in the business in 2006 (in the UK and 2010 in Australia). The best part about Ergoflex is that every component of their mattress is self-developed, which promises uniformity in its quality. They have delivered to millions of customers, and Ergoflex has become a household name in Australia.
Don't Have Time? Here's a Short Summary (1-Minute Read):
What is the Ergoflex mattress?
It is a pressure-relieving, supportive and comfortable full memory foam mattress that is constructed with three layers.The top layer is comprised of high-density visco elastic foam that is deeper than its standard counterparts.
What perks come with the purchase of Ergoflex?
You can get to test this mattress for 30 nights to see if it suits you. Delivery is fast and free, and the product comes with a 10-year warranty.
What are the advantages of the Ergoflex mattress?
This product offers orthopedic support that relieves pressure points and it is ideal for couples. It is durable and hypoallergenic as well.
What payment options does Ergoflex offer?
Payments via credit and debit cards, PayPal and Klarna financing are accepted.
Does Ergoflex have good customer service?
Customer support by phone is from 9:00 to 17:00 on Mondays to Fridays and via email and webform.
Excellent foam
The in-house built mattress foam by Ergoflex is highly superior in quality and offers great body-moulding support, comfort, and durability. The foam has memory and cooling features. The mattress is developed with an open-cell foam offered with a Cool-Sleep Layer and removable/washable Tencel® breathable cover.
Awards
Ergoflex is dedicated to providing its customers with great sleep. Their dedication is reflected in the fact that they have a Sleep Centre portion on their website offering sleep tips and advice. They have been voted the Australian Best Buy since 2010 consecutively. They also made to the Top 10 Mattress of 2020 list of Which are the best buy and won the Product Review 2020 Award.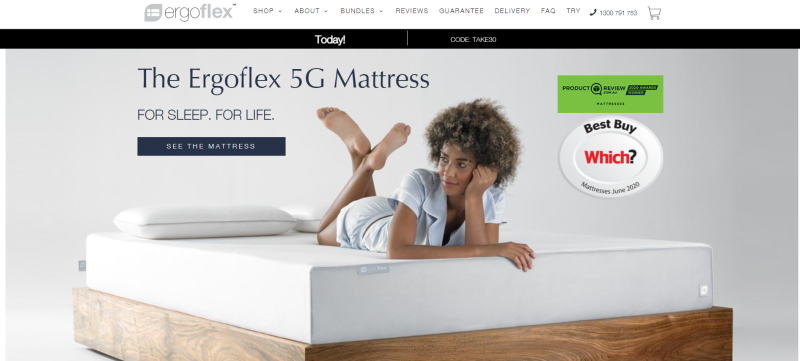 Highly positive reviews
Owing to the number of years Ergoflex has been in the market for, many of their customers are second or third-time buyers of their products, which shows the wider popularity and trust that the brand has garnered. You can check the reviews left by customers on Feefo (Ergoflex awarded Feefo 2016 Gold Merchant Award), Yot Po, and Product Review.
Medically beneficial
The mattress is designed to suit everyone's needs, but its outstanding pressure-relieving and body support performance has attracted a lot of customers with body aches and joint problems. The Australian Back Doctor has commended the medium firmness of the mattress. The design is inspired by Scandinavian orthopedic practice for consistently excellent sleep.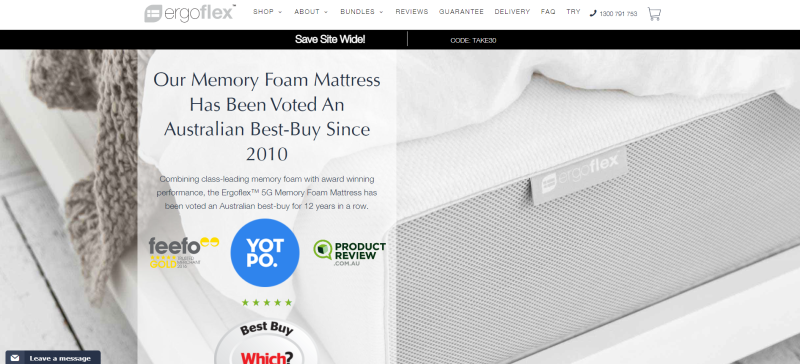 Ideal for allergy patients
Ergoflex Mattresses have been graded Standard 100 by OKEO-TEX®, making them ideal and safe for asthma, allergies, and breathing ailments patients. Additionally, their mattresses are also certified by CertiPur and built to British Safety Standards. The mattresses are hypo-allergenic and anti-microbial for dust mite and allergen resistance.
Discounts
The pricing is very competitive considering the features and reliability. There are bundle offers as well that add real value-for-money giving you more for the money. Ergoflex  is also affordable for students as they also offer Student Discount. Their site provides timely site-wide discounts.
Range of Products
Ergoflex has been in the market for so long and has acquired expertise in offering complete sleep solutions to their customers. Beyond their range of mattresses available in different sizes, they also provide beds, pillows, covers, and sheets. You can also purchase them all under a bundle.
Payment Options
In addition to the discounts on offer, Ergoflex also provides ease of ownership with the payment options available. They have partnered with Afterpay and Zip for pay-in-instalment possibilities, which are offered at a 0% interest with easy instalments ranging from weeks to months, as per your convenience.
RizeUp Association
RizeUp Australia is a community-driven, not-for-profit organisation dedicated to rehabilitating domestic violence victims. Ergoflex has partnered with its proactive initiative to provide mattresses to those in need, delivering warmth, comfort, and a sense of safety with good sleep.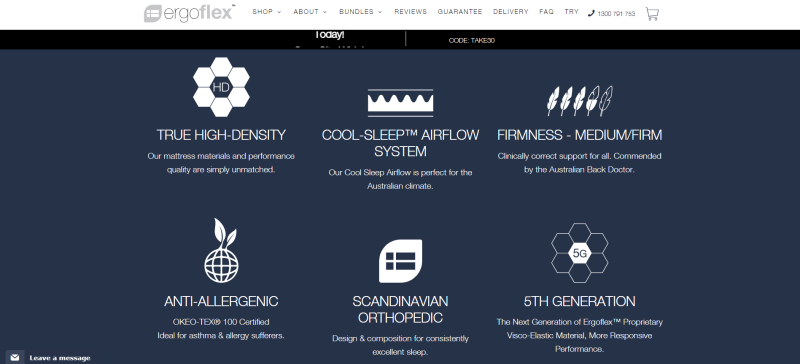 Conclusion
These are the reasons for you to go ahead and purchase a new Ergoflex mattress today! However, if there were a drawback to Ergoflex would be their delivery and returns policy. They do offer free and fast delivery, but next-day delivery is not available everywhere. That is still bearable as their competition in the market is also not offering next-day or same-day delivery around. The bigger setback for Ergoflex is its return policy. They offer a trial period of only 30 days, whereas the competition provides no less than 100 days. Further, Ergoflex is not offering free returns in some locations, while the major competition is easing the process with free returns, no questions asked.
Negating these negatives favouring Ergoflex is their decade-long presence, experience, and wide customer base. So, if you want to invest in a well-known, trusted name of mattresses, Ergoflex is the place to go.
Mattresses Pros
Voted an Australian Best-Buy Since 2010

OKEO-TEX® 100 certified for asthma & allergy

30 night risk-free trial

Next day delivery, free returns & 10 year warranty
Mattresses Cons
The company provides only a 30-day trial, which is too short.

It is not suitable for hot sleepers.
*The above shall not be considered as an expert or professional advice for any matter.
We receive advertising fees from the service providers we rank below.
Advertising Disclosure