How to Choose the Right Mattress
If you are in the market for a new mattress, you need to make sure that you are getting the one that's right for you. If you haven't bought a mattress in several years or longer, you might not know how to choose the right option.
As you start to look at the options, you will find that there are many different choices, and it can sometimes be hard to figure out which is the right mattress for you to provide you with a comfortable rest.
The following are tips that you will want to use as you start to look for the perfect mattress for your needs.
Consider Your Preferences
First and foremost, think about your preferences when you are choosing the right mattress. You want to find a mattress that will be comfortable. However, what's comfortable for you might not work for someone else.
The firmness of a mattress is used to describe how hard or soft a bed feels to the user. Do you prefer having a mattress that is firm and very supportive or do you prefer to sink into the mattress? The firmness level and the types of material that are used will play a big part in the overall comfort that you get from the mattress.
While it may not be scientific, the sleep foundation and other mattress websites do use a firmness scale to help those looking for a mattress.
2: extra soft and generally for those who are under 130 pounds.
3: soft and generally for side sleepers who are under 130 pounds.
4: medium to soft and generally used for sleepers who are under 130 pounds and potentially those who sleep on their side and who are under 230 pounds.
5: medium and better for back and side sleepers who weigh between 130 and 230 pounds.
6: medium to firm and benefits sleepers who are between 130 men 230 pounds or those who are side sleepers and weigh over 230 pounds.
7: firm and meant for side sleepers who weigh over 230 pounds. This firmness may also be good for back and stomach sleepers who weigh over 130 pounds.
8 to 9: extra firm and best for back and side sleepers who weigh over 230 pounds.
Consider Your Weight
One of the factors people forget when they are choosing the right mattress is their weight. For example, those who are lighter are not going to sink into a mattress the same way that a heavier person will. Therefore, someone who is a little heavier and who wants a lot of support should look for a firmer mattress. While it may come down to your preferences, it's important to consider how your weight will change the feel of the mattress.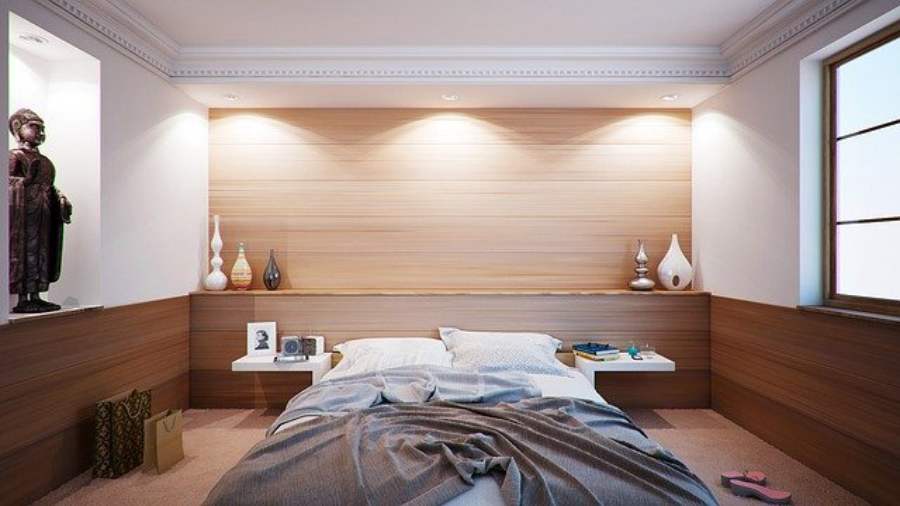 Consider Your Sleeping Position
How you sleep can also determine which mattress is best for you. Think about what position you're generally in before you fall asleep. Is there one that you prefer? Typically, people find that certain sleeping positions are more comfortable, and this may be different than someone else.
By figuring out your sleeping position, you can choose a mattress that better supports your posture and your body. Depending on if you are a back sleeper, side sleeper, stomach sleeper, or some combination of these, you will need different points of pressure to be supported as you sleep.
Those who sleep on their back put the greatest amount of pressure on their lower back. So if the mattress is too soft, your midsection can sink more deeply which causes a U shape and can strain your back. However, if the mattress is too firm, there won't be any "give" to support the slight curve in your lower back, which can also contribute to back pain.
So if you are a back sleeper, you likely want a medium-firm or a firm mattress that has moderate contouring to support the best sleep possible.
Side sleepers generally need a medium-soft to medium-firm mattress to support their shoulders and hips. If the mattress is too soft, pressure points on the mattress may not align your spine correctly. On the flip side, a mattress that is too firm may put an extra impact on your hips and shoulders.
If you sleep on your stomach, you would do best with a medium-soft to medium-firm mattress. Similar to back sleepers, most of the sleeper's weight is put on the lower back. Because stomach sleepers want to avoid creating a U shape with their body, a firm mattress is generally best. Additionally, the firmer mattress won't make you feel as though you are suffocating if you lay face down into the mattress.
If you are like many people and tend to change the position that you sleep in, you should try your best to figure out which position you tend to sleep in the most. Even if you do switch between your stomach and your side, for example, you generally will spend most of your night sleeping in one position. Regardless, a medium-firm mattress is generally the best across all sleeping positions and would be the best option for a combination sleeper.
The Size of The Bedroom
The size of the bedroom that you plan to put the bed in will also impact your decision on which mattress to buy. While many people do prefer a larger bed, sometimes a smaller room can't accommodate that large, king-sized bed. So, before you decide on a mattress or a bed, you should make sure to measure your room or even put tape down to see what the size of a bed would look like in that room to make sure that it will fit.

The Purpose of The Mattress
The purpose of the mattress may also influence which one you buy. For example, if the mattress is meant for you, you should evaluate your sleeping position, your weight, the level of firmness you prefer, and the type of mattress that you want for the best night's sleep.
However, if the mattress is meant for a guest room, you likely want to go with the mattress that is best for supporting all sleeping positions. for example, you should likely go with a medium soft or medium-firm mattress because that will likely be the most comfortable for any guests that you have.
Or, If you are buying a new mattress for one of your children, you should talk with them to figure out the mattress that best suits their needs. Because your child may outgrow this bed, you should also consider whether you plan on using that bed until your child needs to get a bigger one or if you plan on upgrading the bed in the future to serve as a guest bed.
Learn About the Various Types of Materials
Today, there are many different types of mattresses and materials available. Innerspring coil mattresses are still very common because they are affordable. Even within innerspring mattresses, there are further subtypes. Mattresses with coils are going to provide you with more of a traditional feel and a lot more bounce. However, they tend to wear out sooner and they can be noisy when the coils start to squeak.
Foam, gel, and latex mattresses are other very popular materials for mattresses today. They tend to have a bit more give to them, allowing the mattress to cradle the body and provide relief from pressure points. The pure memory foam mattresses are comfortable, but they can retain heat more than latex or gel mattresses. Both the latex and gel provide a comfortable sleeping experience and the same contouring benefits of memory foam.
Pillowtop mattresses are often a good option for heavier buyers, as they provide an added layer on top of the mattress that is several inches thick. These types of mattresses tend to be more expensive, though.
Additionally, air beds are built with an air chamber as their main form of support. They usually come with a pump that can be controlled by either your smartphone or remote. This remote is built into the mattress it can be used to add or remove Air as the sleeper pleases. Because you can add or remove air anytime, air beds are generally the most flexible mattress.
In fact, couples generally love air beds because they can set the firmness level to different settings so that both partners can be comfortable while they sleep.
Your Budget Plays a Factor
As with any purchase, you will have to make sure that the mattress you buy will work with your budget. The cost for mattresses can vary widely, but most will agree that you do not want to choose the cheapest mattress you can find. These tend to be subpar in terms of quality and durability, and you will likely have to replace them sooner than you think.
The lower-priced mattresses are often not as comfortable, as well. If you are in the market for a mattress, but you don't feel you have enough money for the high-quality mattress that you want right now, it could be a better option for you to hold off until you can afford the right mattress.
But of course, any new mattress is going to be better than an old one that doesn't support your body weight. If you cannot afford a nice mattress, there are other options. Some mattress companies may offer to finance for example, where you pay a monthly payment until you pay the mattress is paid off. Or, you could just go with a less expensive or a smaller mattress in the meantime while you save money to upgrade to the larger dream mattress.
Take Your Time
Buying a mattress is a big decision, so it's important to make sure that you are choosing the right mattress for your needs in the long term. Take some time to look at the options and learn about the different materials, so you can then make an informed buying decision.
If you can, you should try going to an actual mattress store to try out different mattresses to see what you like. Because not everyone knows what a soft or firm mattress actually feels like, the best way to figure out which one you prefer is to take the above considerations and to go try out the mattresses for yourself.
Final Thoughts
Now that you know how to choose the right mattress for you, it's time to start researching the best mattress currently available on the market. While you could spend hours researching the best mattress that fits your sleeping style but also and your budget, you should instead check out our expert reviews.
Our mattress experts have looked at the 10 best brands and companies that sell the best mattresses. We have done your research for you, so all you have to do is look through our expert reviews choose one that sounds the best.
*The above shall not be considered as expert or professional advice for any matter.

We receive advertising fees from the service providers we rank below.
Advertising Disclosure