Koala Mattress 
There is a rising awareness for sustainability efforts worldwide, which is an effort in the right direction considering the higher than corresponding increasing levels of pollution. More and more varieties of pollutants are being found in living creatures, including humans. Furniture, mattresses, and beddings are constantly exposed as a part of our living routine. The most intimate exposure we have of all these is perhaps our mattresses, given the duration we use them. However, it is unfortunate that many mattress manufacturers are ignorant that the materials they use to manufacture the mattresses may adversely affect their customers. If you are in the market for a new mattress and are concerned about yourself and the health of your loved ones, then Koala is the answer for you. Koala is dedicated to making planet-friendly products that include the range of their mattresses. However, be informed that eco-friendly components used to assemble these mattresses make zero compromises on their comfort.
Don't Have Time? Here's a Short Summary (1-Minute Read):
What is the Koala mattress?
Unlike the other mattresses that are constructed with memory foam or latex, the Koala mattress is designed with a polyurethane Dunlop foam that offers better breathability and support.
What perks come with the purchase of Koala?
When you buy a Koala mattress, you'll avail of a 120-night trial, free and fast delivery within the metro, and a 10-year warranty.
What are the advantages of the Koala mattress?
This mattress is designed with unique and advanced technologies, and it is produced and marketed by a high-quality and reputable company.
What payment options does Koala offer?
Visa, MasterCard, Amex, Paypal, Afterpay and Zip payments are accepted for your purchase.
Does Koala have good customer service?
Yes, customer support can be contacted through live chat, phone and email.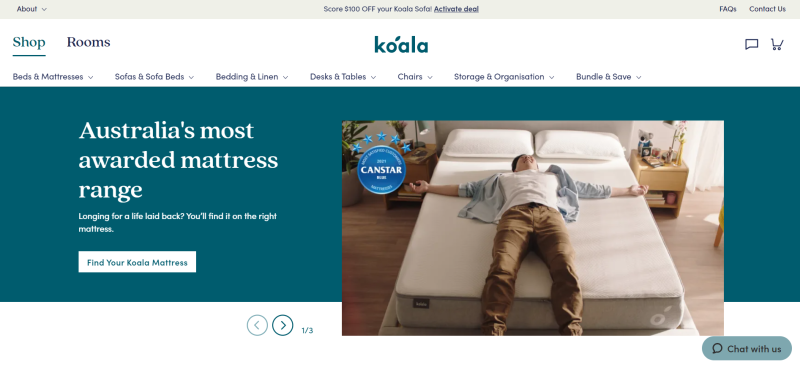 Certified by regulatory bodies
Koala mattresses are certified by CertiPUR-US, and GECA (Good Environmental Choice Australia), which are dedicated to ensuring that production takes place without formaldehyde, are low-VOC (volatile organic compounds) and are free from nasty chemicals. Every product's supply chain ensures all materials meet the highest social, ethical, and environmental standards.
Wide range on offer
There are three options to choose from, the Koala Mattress, the Koala Calm As Mattress, and the Koala Soul Mate Mattress, available in five  (for the former 2) to three (for the latter) size options. The sizes include single, king-single, double, queen, and king sizes.
Packed with features
The complete mattress range is loaded with features of varying qualities; however, all mattresses are flippable and offer different levels of firmness for the best body support. Koala offers technology across its range that keeps the mattress dry, cool, and breathable. Its top-of-the-range Soul Mate Mattress comes equipped with an anti-bacterial layer. They are incredibly durable offered with a warranty period of 10 years.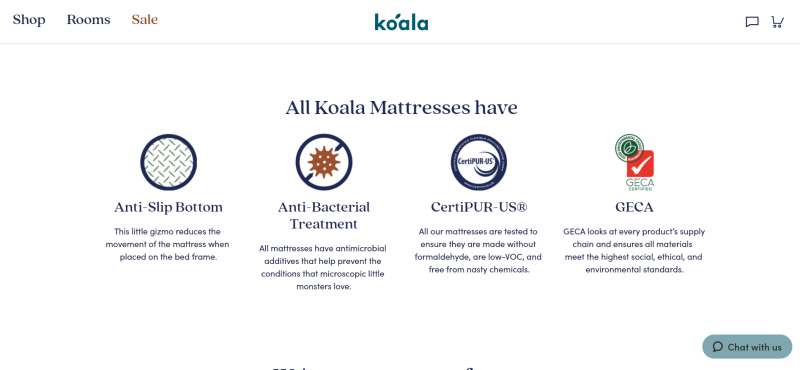 Multi-layer comfort
The Koala range comes with a minimum of 3, a maximum of 6 layers for support with varying thickness, and a quilted plush cover. An edge support feature is also offered to avoid sliding off the edges, and an adaptive spring system that reacts to body movement to restrict the transfer to the other side of the mattress.
Delivery and returns
Koala offers Free and Fast Delivery and Same-day Delivery in Metro Areas (Sydney, Melbourne, Adelaide, Brisbane, and Perth). You can also choose to schedule the delivery of your order at your convenience. The mattress range comes with a 120 nights trial from the delivery date and can be easily returned if you so wish. The returned orders are donated to charitable causes.
Awards
Koala's range has been awarded multiple times for customer satisfaction. In the years 2019 and 2021, Koala won the Canstar Blue' Most Satisfied Customer' Award for the Mattress category. Their Calm As Mattress was also bagged the title of Voted Product of the Year for 2022 (mattress category), based on Neilsen's survey of 5000 people.
Environmental contributions
Koala is a part of the 1% for the Planet, under which they contribute one per cent of their gross annual sales for environmental causes. They have been associated with World Wide Fund for Nature (WWF)-Australia, to which they have donated over $1.5 million in the last five years. They have also partnered with Soft Landing, a mattress recycling venture that helps reduce the number of mattresses that end up in landfills.
Positive feedback
Koala customers have received the product positively. Many customers have claimed that their body aches in the neck and back areas have been improved using their mattresses. They have also left positive responses for the ease of ordering, delivering, and assembling. The customers have also particularly liked that there is not much waste in unnecessary packaging.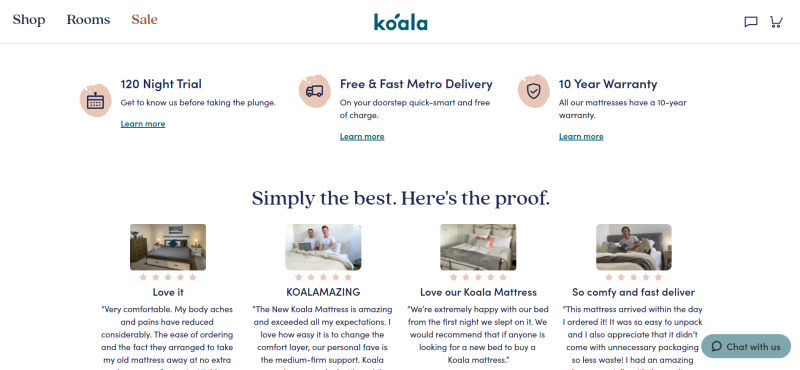 Range of products
You will probably not use your mattress without the essential additionals such as a pillow, pillowcases, sheets, etc. The good thing is that you can get all your bedding requirements and your mattress from Koala itself. Not just beds, they have a wide variety of furniture to choose from, including sofas, sofa beds, storage solutions, tables, chairs, etc. The best thing about them is that the designs are evergreen, so they are less likely to go out of trend until the warranty period at least.
Discounts
Koala offers a lot of different kinds of discounts on your purchases, such as student discounts, subscription discounts, bundle purchase discounts, etc.
Conclusion 
Koala is a trusted name in the market. They have acquired a sustainable and eco-friendly repertoire and stand true to it all the senses. Many have positively received their products, and their policies are also very friendly. I highly recommend Koala Mattress and Furniture for your related needs.
Mattresses Pros
Australia's Most Awarded Mattress Range

Over 50,000 5-Star reviews

Sensapole® Cooling Tech for the optimum temperature

Up to 6 Layers of ergonomic support

Fast Delivery, 120-Night Trial & 10-Yr Warranty
Mattresses Cons
It can be too soft for most sleepers.

Its firmness is not adjustable.
*The above shall not be considered as an expert or professional advice for any matter.
We receive advertising fees from the service providers we rank below.
Advertising Disclosure