Hugo Mattress
Those nights when your slumbers are restless? You can say goodbye to them. And that is when you do them on Australia's best bed-in-a-box. This incredible mattress is Hugo, and it's a fantastic furnishing for promoting your well-being. You cannot undermine the importance of a good quality mattress. It's because you spend one-third of your life on it-sleeping. Your nightly forty-winks are the key to enjoying healthy and happy days that in turn render you more productive. Improving your sense of wellness, and healthy sleep on a good quality bed regularly gives you a better quality of life.

Don't Have Time? Here's a Short Summary (1-Minute Read):
Extra foam layer. What makes the Hugo mattress different from traditional foam mattresses is its extra foam layer. Unlike the usual beds, you'll find 4 foam layers on this product instead of the typical 3. This provides additional comfort along with excellent pressure relief.
Made in Australia. Each and every element of the mattress is made in Australia according to the highest Australian standards.
3 Months trial. That's right, 3 months and no commitments. If Hugo is not for you, the cost will be fully refunded back to you.
6 months interest-free. You can buy it now and pay later with the 6 months payment plan with no interest.
Materials and Layers Of Hugo Mattress-In-A-Box
The 4 foam layers of Hugo are comprised of the latex layer, the memory foam layer, the transition foam support, and the high-density foam slab. The comfort level of this bed is categorized as "medium" which rates 5/10 that is preferred by most sleepers.

Latex
This layer consists of the top of the mattress. It fosters better airflow and is naturally antimicrobial. Giving sufficient edge support, this feature makes the bed bouncy and responsive as well.
Memory Foam
This is the thickness of Hugo that contours and gives support to your body. The medium feel it produces gives astounding pressure relief while moulding smoothly to the way you sleep.
Transition Foam
This component makes the Hugo mattress unique. You don't usually find this in other beds-in-a-box. Allowing an even distribution of your weight, this layer supports your spine and your back. Your movements will not, in any way, disturb your partner when sleeping.
High-density foam
This is the material that's found on the base of your Hugo mattress. Its firmness makes your bed durable while giving it structure. As a result, it can foster your spine alignment.
Cover
The Hugo bed is protected by a two-tone cover. The top is coated with a stretchable rayon/polyester fabric that envelopes the sides. It defines the edges of the mattress. This grey-coloured fabric is sturdy and can contend with regular wear and tear.
This combination of foams engineered into the Hugo mattress proves its premier quality that delivers the utmost comfort to various kinds of sleepers. It's primarily those who slumber on their back or sides that benefit from this type of bed because it alleviates pressure on the shoulders and the hips.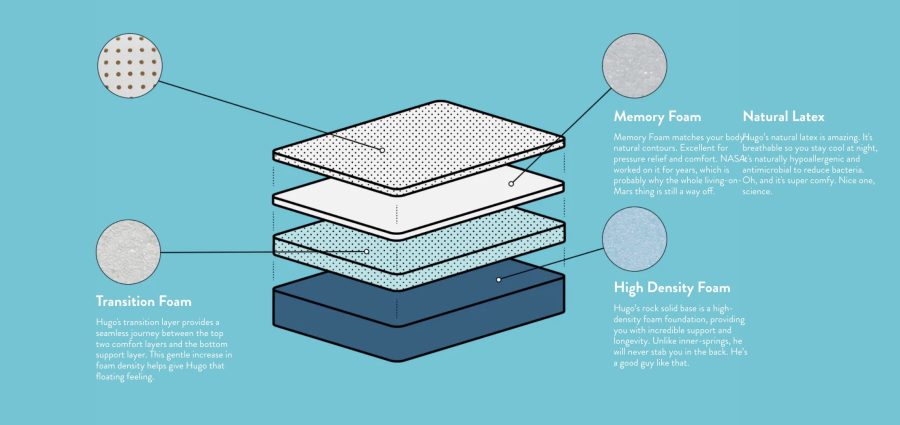 Back to top

↑
Firmness Level For Ultra Comfort
When you look at the typical firmness chart that ranges from 1 to 10 with 1 being the softest and 10 being the firmest, you'll find that the Hugo mattress rates 5. It means that this bed is on the median firmness level, or is medium firm. It connotes the universal comfort zonewhich is preferred by most customers. Those who want a firmer mattress should consider an alternative.
At just the right surface feel, this product is known to cradle the spine while soothing the pressure areas. It's a great bed for relieving back pain. However, this function is suitable only for small and average-sized sleepers. It is for these particular consumers that the Hugo bed can mitigate spine alignment issues.
The cover and the uppermost layer which is made oflatex allow you to sleep cool on this mattress. After all, latex instigates better airflow wherein heat escapes below.
Suffice it to say that most types of sleepers benefit from using the Hugo mattress.It is especially the back and side sleepers that are suitable for utilizing it because it appeases pain on the body's pressure points. Long and undisturbed sleep through the nightis ensured.
Back to top

↑
Final Thoughts
The above are the salient details and features of the Australian-made Hugo mattress. It is a unique product because it is designed with 4 foam layers instead of the usual 3 foam layers.
There are pros and cons to buying a mattress online, and the makers of this product have the best interest of their customers pertaining to this. That is, you can test your Hugo mattress for three months after your purchase. This trial period is for you to decide whether it is the right bed for you.
If you are not pleased, you can return the bed and have your payment refunded. Your used mattress will then be turned over to folks at Salvo's wherein it will be repurposed.
Back to top

↑
Hugo Pros
Shipping of the product is fast and free

It is backed by a 15-year warranty

A three-month home trial goes with the purchase

It offers minimal to zero partner disturbance
Hugo Cons
It is not a very well-known or popular brand

It is a newer bed-in-a-box brand
*The above shall not be considered as an expert or professional advice for any matter.
We receive advertising fees from the service providers we rank below.
Advertising Disclosure