Eco Terra
Sleep is such an important part of life, and having a high-quality mattress beneath your body each night can have a huge impact on the quality and length of your sleep. With the right mattress, drifting off into a peaceful rest is a simple and stress-free process, and this is why it really pays off to invest in a mattress you can trust. Our Eco Terra review will introduce you to this mattress brand and help you decide if it's the right one for you.

Don't Have Time? Here's a Short Summary (1-Minute Read):
What is the Eco Terra mattress?
It is a hybrid mattress that promotes eco-friendliness and comfortable sleep. This product has natural latex, organic cotton and wrapped coil materials. Sleeping on it feels like doing so on a traditional innerspring bed but it is free of chemicals and toxins.
What perks come with the purchase of Eco Terra?
A 90-day trial is allowed for your purchase of this bed, and it has a 15-year warranty.
What are the advantages of the Eco Terra mattress?
This 100% natural latex mattress is manufactured with organic materials. It is a cool and relaxing bed to sleep on.
What payment options does Eco Terra offer?
Credit cards and other forms of standard payments apply, including financing with Klarna.
Does Eco Terra have good customer service?
Yes, customer support can be accessed via live chat, phone and email 7 days a week at 9am to 9pm PST.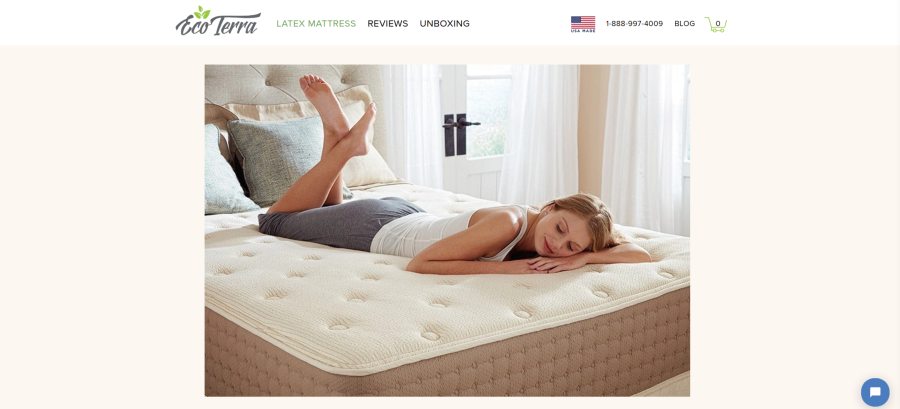 Mattresses Pros
100% Natural Latex Hybrid Mattress

Free Shipping and Returns

No Chemicals and Non-Toxic

2 Firmness Options
Mattresses Cons
It is not as conforming to the body compared to a memory foam mattress.

Its medium and medium firm options may not be suitable for people who prefer a soft bed.
*The above shall not be considered as an expert or professional advice for any matter.